I will be announcing our next litter toward the middle of July! They are a Fergus x Jewell cross and will have the most wonderful personalities! Sign up fo ray email list to be among the first to know about puppies! 
Thank you! Erin 307-254-3968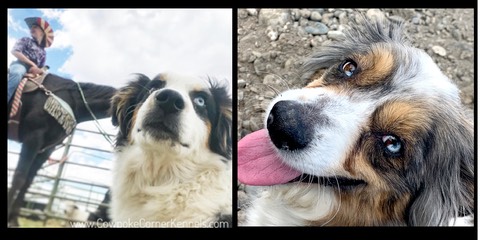 All puppies are sold first come first serve. All pups are sold as pets and come with limited registration and no breeding rights. Breeding rights are available for an additional price. I ask for a $200 deposit to hold a puppy till they are ready for pick up (Venmo or PayPal). Puppies are sold with age appropriate shots, vet check and my health guarantee (click here to see the link.) Let me know if you have any other questions. Also click here for my Mini Aussie FAQ page.

Love puppy pictures? Click here to see some more pictures.
Ranch puppies and nosey horses
More Puppy pictures click here
Heath Makes Friends with the Cats
Mini aussie puppies in the snow
Mini Aussie pups - it's a two-for
To see all the TBT graphics click here.